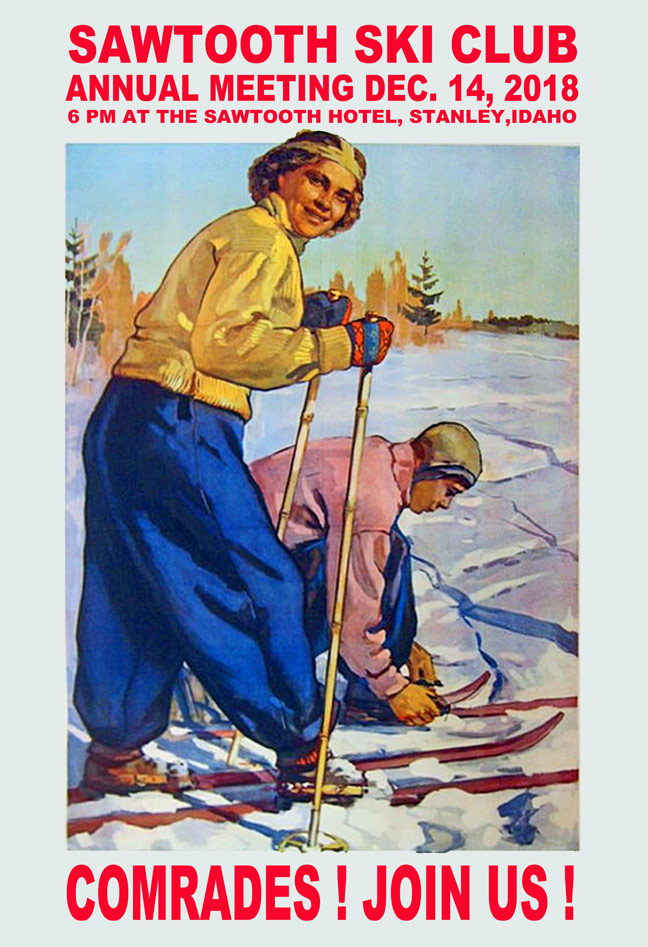 SKI CLUB MEMBERS, LOCAL FOLK, COMRADES ALL … DON'T MISS OUR 19TH ANNUAL SKI PARTY CONGRESS!!!
MEET AT THE SAWTOOTH HOTEL IN STANLEY,  IDAHO, AT SIX IN THE EVENING ON DECEMBER 14TH, 2018!
THERE WILL BE A REASONABLY SHORT BUSINESS MEETING AND VOTE FOR BOARD MEMBERS
FOLLOWED BY THE EVER POPULAR  DOOR PRIZE DRAWINGS AND A LITE SAWTOOTH DINNER (DONATION PLEASE)
WINE AND BEER BY THE GLASS AVAILABLE AT THE BAR
YOU CAN JOIN OR RENEW YOUR SKI CLUB MEMBERSHIP AT OUR UNBELIEVABLE LOW PRICES!
AND TOGETHER WITH YOUR COMRADES, RAISE YOUR GLASS IN A HEARTFELT TOAST
TO THE FUTURE OF CROSS COUNTRY SKIING IN OUR BEAUTIFUL SAWTOOTH MOUNTAINS!