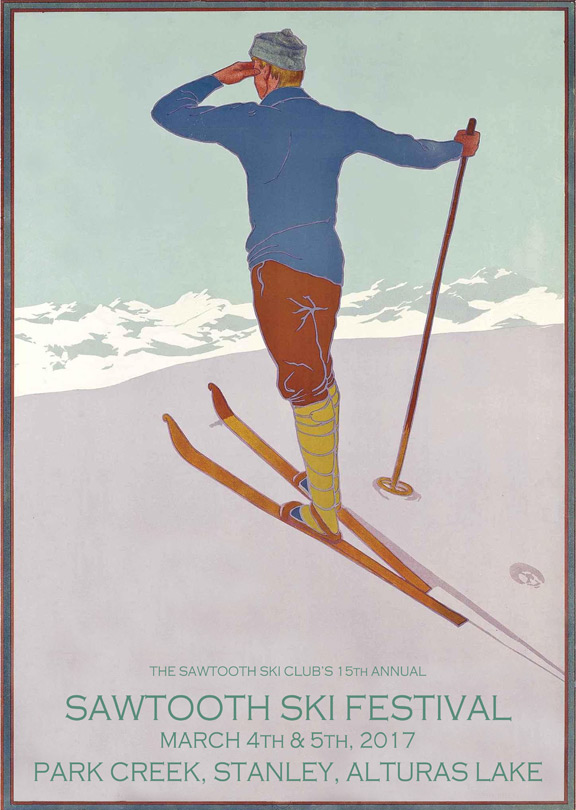 March 4th & 5th, 2017 — Sawtooth Ski Club 14th Annual Ski Festival
SATURDAY, March 4th, Park Creek Ski Area
Highway 21, 7 miles W. of Stanley
11am-2pm Homemade Chili & Treats
Ski/Snowshoe Poker Run!!!
Winning hand called at 1:30 pm
SATURDAY EVENING 5:30-8:30pm
Stanley Community Building
Dinner Extravaganza
Incredible Silent Auction, bring your checkbook!
Live Music! Dewey, Pickett and Howe!
SUNDAY, March 5th
Alturas Lake Ski Area
Highway 75, 20 miles S. of Stanley
11am-3pm Soup Kitchen Social
Great ski trails and a great time!!!
The Sawtooth Ski Club will host the 15th annual Sawtooth Ski Festival March 4th and 5th.  Come ski, play, feast, dance, shop and socialize,  all while supporting Cross Country Skiing in Stanley Sawtooth Country! Saturday, March 4th  at the Park Creek Ski Trails, Homemade chili and treats await eager skiers and snowshoers at the Park Creek Poker Party.  Donating participants ski or snowshoe a fun course, stopping at stations to collect a card, at the end, the best hand wins a most excellent prize! Poker and Chili starts at 11:00. Winning poker hand to be called at 1:30. Thank you to Jeff and Sylvia who coordinate the Park Creek Day. 5:30 Saturday evening at the Stanley Community Building, Sean Petersen, Heinz Schlosser and their happy volunteers will present a delicious dinner, Dewey, Pickett and Howe will play Bluegrass music  and our Sawtooth Ski Club Silent Auction will inspire shoppers.  Dozens and dozens of individuals and businesses donate a wide variety of fantastic items to the auction, so Bid High, Bid Often and bring your check books! 11 am. Sunday March 5th at the Alturas Lake Ski Trails, come join the Alturas Soup Kitchen Social… Enjoy great skiing, great friends, great food and great views. All events are donation based, so be sure to bring your check book and plenty of cash for the donation jars. The Sawtooth Ski Festival is our only fundraising event of the year.  We depend on memberships, donations and Ski Festival proceeds to fund our efforts to provide quality groomed cross country ski trails in two gorgeous non-motorized areas in the Stanley Basin and Sawtooth Valley.  Thank you for your financial support as well as your volunteer support.  It takes at least 5 villages to pull off this annual event, ski club members are incredibly generous with their time, their skills, their art, their muscle, their ideas, their energies, their services, their products. We are profoundly grateful to everyone! Call Karen Keiski at 208-774-3487 if you wish to volunteer for any of the events or donate to the silent auction. See you at the Festival!